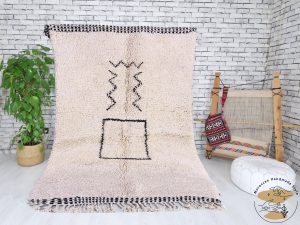 HomeMoroccanRugs.com offers the largest selection of authentic handmade Moroccan rugs and carpets directly from Moroccan artisans.
Our Moroccan rugs are made using traditional methods passed down through generations, creating timeless pieces that will stand the test of time.
Our rugs and carpets are hand-tied, hand-knotted, and woven from 100% natural fibers like wool, cotton, and silk. Each rug features traditional Berber, Arabic, or Tribal designs that have been used in Moroccan craftsmanship for centuries.
We work directly with small artisan cooperatives and rug-weaving villages throughout Morocco to provide the highest quality, ethically made rugs at affordable prices. All of our artisans are fairly compensated and supported in preserving their cultural heritage and traditions through their craft.
Shop our curated selection of distinctive colors, patterns, and sizes in kilims, flat-woven, medallion, runner, and Tribal Moroccan rugs. From small door mats and pillows to detailed elaborate Oriental designs – we have the perfect Moroccan rug to complement any style and décor in your home or office.
Let HomeMoroccanRugs.com bring the rich tradition, history and craftsmanship of authentic handwoven Moroccan rugs into your life. Browse our wide selection today!